March 07, 2018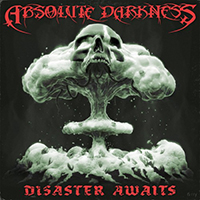 Vocal immediately takes the lead in the sound That Bloody Night, guitar motifs complement the musical picture with lace frosty patterns, giving the first composition of Absolute Darkness - Disaster Awaits album the stern freshness of eternal winter.
The main motive for the Blood In The Snow introduction is shrouding in the marvelous frozen melodic veil of the fascinating guitar saga, which narrates about the ancient sacraments, which do not stop influencing the world order to this day.
Perhaps, the following three compositions are perceived inite as monolithic entity. First violent, full of horror and fear, the musical motive wraps up vocal phrases with dark vortices, then in the bridge introduces the shades of dark romance peculiar only to Chaos Unleashed, which otherwise narrate in a rolling hymn commemorating the triumph of chaos and promiscuous aspirations. The rapid and unrestrained wave of musical fury into the introduction raises the vocals setting the song's name to the exorbitant heights, then in the verse the throbbing march in the middle tempo makes the road among the host of the children of chaos and unknown creatures.
Then this alternation is reborn again. Next, broken, mysterious and unpredictable directions, decrees and orders Mad King create an obscure musical fog enveloping, from time to time, a romantic haze, then again sweeping the unrestrained madness of royal decisions. This triad is completed by the militant desire to fight, but not to perish, embodied in the name of the battle cry Battle Won Or Lost, raising vocals to the cutting edge of the musical image.
Although, it may not be worth taking the previous composition as a completion - title track Disaster Awaits unites alarming prophecies in a single thought about the upcoming disasters, destruction and waves, confidently and clearly articulating their forebodings in the verses. Bridges are carried off by waves juggling anxious experiences, without fear of damaging or destroying them.
After the ancient battles, magic and chivalrous valor manifested in bloody battles, music takes us to more modern times. It is persistent, demanding and confident Resist repeats its name again and again, promoting the hard and stubborn desire to not retreat and not to get up.
Again, the Nothing main motive from the very beginning manifests its essence, capturing vocal reflections in captivity and not letting go for an instant, sometimes thickening and condensing the sound, sometimes giving up the proper melodic breaks. Tough, viscous in a thick melodious sugar syrup Mutual Destruction envelops the completion of the album with a dense, vague sound, from time to time rushing in swift jerks to the next relaxed sweetened rest.