May 30, 2021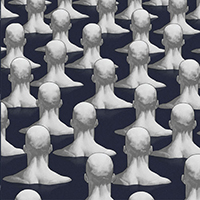 Pulsating notes with progressive playfulness and melodious charm of keyboard variations create a musical image for vocal phrases of the Mouse song. The New Violet track continues the Second Still - Violet Phase album in even more broken rhythm and mysterious variations of the melodic essence of composition's discoveries.
Accelerating the pace and wrecking music and the vocals of the futuristic atmosphere of keyboard variations, the Double Negative gives music a few other stylistic shades. The Spiders & Spies romantic ballad enchants the listener by thinking vocal and musical variations.
The Future song is the keyboard revelations to the top of the musical image, complementing their artistic thoughtfulness by reflections by the vocal phrases of the singing lady. Rhythmic ripples in unity with key media prioritize the musical essence of the Special No One track, complementing the musical alarms of vocals doubts.
An impatiently nail ripples intertwined in spiral unity of the Eternal Love song with vocals trill and doubts. Starting in an intriguing mysteriousness, the Idyll final composition of the album appears the most variable and progressive creation with the twilight mysteriousness of keyboards variations.