December 13, 2017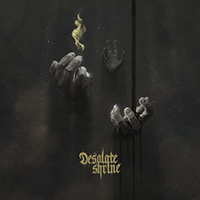 The Primordial One begins the Desolate Shrine - Deliverance from the Godless Void album with an uncontrollable stream of violent frenzied drive. With the introduction of vocal music freezes swiftness, forcing the gloomy motives from all sides in the parties of all instruments. But in the bridges, rapid rushes repeats, inconceivable meditations embodies in the chorus. The instrumental part is entangled with even more ghostly and enchanting melodies, completing the composition.
Lord Of The Three Realms intro develops laid down by the final the previous one tendencies, anxious vocal phrases mysterious mysterious musical motifs enveloped by the ghostly mysteries of the dark elements.
Twilight mystery envelops in the cryptic mystery of the unknown ritual Unmask The Face Of False, forcing the restrained waves of dark charms and unknown ghosts, bringing sacrifices to unknown deities. Vocals of this story so restrained, from time to time screaming inclusions ads their shades to growling style.
Continuing the stylistics of the sound The Waters Of Man colors the vocals and music in hopeful tones, giving some phantom hope to get rid of the surrounding gloom.
The soft, calm The Graeae introduction continues with a distant whisper. The creepy, sharp squeal calls for the introduction of guitar riffs and a powerful musical component, continuing the music in an obscure frightening fog. Then this eerie dusk complements the key notes, bringing a touch of symphonic charm.
But the hope for righteous light turns out to be in vain, in Demonic Evocation Prayer music dusk and evil become more cheeky, speeding up the pace of music, supplementing the darkness with a variety of different shades and musical delights.
A dense, sinuous The Silent Star musical canvas unwinds its anxious prophecies leisurely, intensifying fear and horror with a passive hopelessness.
Of Hell calls for the completion of the album, beginning with a quiet and relaxed keyboard sonatas, then the gloomy fog thickens, becomes dark and impenetrable, making the composition into a solemn hymn of triumph of darkness and gloom..