August 12, 2017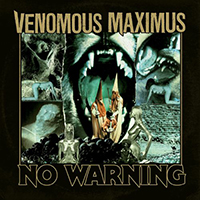 Like soulless machines echo of electronic impulses, I begins Venomous Maximus - No Warning album with instrumental synthetic harmony - opening side A. The eerie, gloomy fog of musical accompaniment envelops Spellbound vocal phrases, staggering from side to side in a verse and circling in a whirlwind of whirlwinds in a chorus Blood for BloodEven in the entry 3 main motive subjugates the other elements of the musical action, forcing them to follow its instructions, holding them so tight. There is a different motive, but it also subordinates its power, demanding the Return of the Witch - there's no other way to break free! You have to do that - the gloomy, viscous, tight musical cover does not accept any excuses!
All of My Dreams completes side A with a gloomy, sad acoustic ballad, thoughtfully and reverently remembering its title.
The next synthetic chime of electronic impulses II takes us to the side B.
Title track No Warning continues this side - vocal phrases tend to break away from the musical accompaniment that keeps them by viscous fetters of their riffs.
An alarming voice, music and motive, in anxious nervousness, dances worried, reflects thoughtfully and restrainedly about future troubles, anxiety and adversity - begging to Pray for Me - again and again, more and more!
Soft, wise thoughts of a lonely bard bring Endless acoustic instrumental ballad that sounds before a thunderstorm.
The thunder roll completes the revelations of the bard, Sea of Sleep completes the side B and the whole album. Anxiety and solemnity have woven into a single musical stream, the guitar solo envelops it with sparkling gems, sparkling in the light of different shades, the vocal story begins at the background of music.