April 05, 2021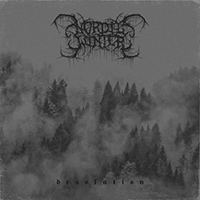 The obnoxious pulsations of musical notes create an atmosphere of vague sadness, as if appealing to the echoes of invisible ghosts soaring. Then the vocals with furious melodies complement the Forest Of Despair musical twilight, combining into a unity of incredible sadness. Entering gloomy musical reflections, the sound of the Nordicwinter - Desolation album supplements A Shadow's Veil musical doubts with echoes of vocal reflections, combined in a leisurely dance of musical mystery.
A woeful atmosphere intensifies the twilight of impenetrable darkness, rolling in waves of painful passages of the In Solitude main motive, then crowning these waves with crests of twilight vocal doubts. The Fall To Ruin (Instrumental Version) track concludes the sad reflections with the twilight of a gloomy symphony.
But after sad and painful meditations, the All That Remains song rises with the echoes of future hopes, rising through the veil of darkness with the sound of a proud anthem, showing a readiness to fight in innumerable battles. But the Tomb Of Silence track's darkness and horror intertwines music and vocals in a single burden of gloomy veils, whipping up anxious forebodings and sadness, ending the release with the Last Rites (Instrumental Version) muted instrumental piano solo tunes.