April 11, 2020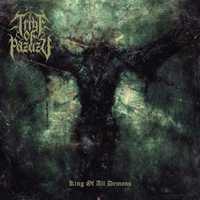 The title track begins the Tribe Of Pazuzu - King of All Demons album with an impressive interweaving of rapid rhythmic rushes, spiraling with furious vocal phrases and the melodic charm of instrumental bridges, combining these stylistic contrasts at the beginning of the chorus.
The mystical buzz of the guitar solo of the introduction gives mystery to the further development of Summoning Rituals composition, marching with the mysterious ritual of the dark anthem, introducing a whirlwind of swift drive by guitar solos of instrumental bridges, enchanting with mesmerizing melody.
After the rhythmic drum roll in intro The Burning of Diseased Empries continues the album with a stormy assault on a furious musical thriller, introducing shades of romantic emotions into it with a cry of a guitar solo.
The epic musical motifs of the Crucify the Deceivers introduction captivate with the thoughtful sound of a guitar solo, then complementing the procession of a stern march with significant vocal reflections, sometimes exploding with a stream of furious drive. Forcing an incredible acceleration of musical narration Retaliation & Wrath ends the album with his most evil and furious musical action movie, again and again emphasizing the name in the chorus.