June 06, 2022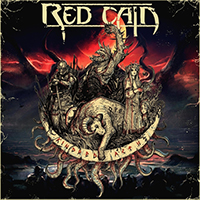 The title track of the Red Cain - Kindred: Act II album captures in a charming whirlwind of melodic musical variations, complementing them with inspired vocal appeals and mesmerizing with the guitar solo of the instrumental part.
Somewhat transforming the sound of the album and expanding its stylistic scopes, the Demons composition complements it with sparkling echoes of electronic music and raises the importance of the vocal part to the top of the musical image.
The Precipice of Man pensive ballad builds a musical composition based on the vocals dialogue of male and female vocals. In the chorus, they are combined in a mesmerizing waltz of a charming duo, preceding the condensation and hardening of the musical further musical sound.
The vocal part alternating and combining pure vocals and growling is pushed to the forefront of the musical structure of the Baltic Fleet composition, complementing these transformations with fascinating musical passages with a symphonic influence, continuing such stylistic constructions into the sound of the Varyag and the Shrike exciting ballad.
The intriguing mystery of the introduction gradually and slowly develops the musical shades of the Sons of Veles main motif, building its essence and weaving the lace of a fascinating musical fairy tale, anticipating the whirlwind of the rapid drive of the Sunshine (Blood Sun Empire) final composition, captivating in an unstoppable flight to the coming adventures.