June 06, 2021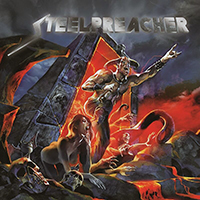 The intense atmosphere of the riveting company explaining its need and desires in the pubs, the Here For The Beersong untwists the flywheel of musical unstability ongoing doubts and painful premonitions of the title composition of the Steelpreacher - Back From Hell album.
Dentaling in the fun of the dance festival, the Da Damn Booze composition complements the musical narration by the motifs of the buggy dance, exposing youthful fun and emotional unstability into the atmosphere. Accelerating the music pace and returning the company's echo, enthusiastically used alcohol in the bar, the sound of the Wish You Were Beer song approaches the stylistry of the musical thriller. Pasting musical rage, the When The Iron Calls composition marching the mid-tempo march of epic saga, having honor and praise the band's musical genre and explaining the commitment to it confidently and comprehensively.
Romantic guitar intro's solo enters shades of southern rock into the album, anticipating further unity of the Beer, Meat 'n Metal music and vocals in this musical style. The Rock For Your Life sounds more stubborn, assertive and rhythm, driven steps of a stubborn march of the rebar and a revolutionary musical crowd.
Continuing the funeral musical frenzy with some acceleration, the Bad Things Never Last complements the main vocal of the background patience, sealing the vocal party in combination with the musical drive. The Titanfall sounds as union of epic saga, a gloomy fairy tale and a mid-tempo musical march, combined in the extensions of the ancient legends and fairy tales, but before the entry of vocals, music speeds up a litle bit. The Masters Of The Underground (Feat. Dragonsfire & Secutor) final composition of the album brings together in its musical lace to the extension of the presence of participants in other groups as musical associates.