January 23, 2020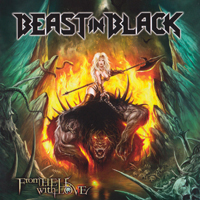 An inspirational whirlwind of musical motifs picks up the ascended experiences of vocal phrases, brightly and excitingly captivating with the unity of musical passages. The title track continues the narrative of the Beast In Black - From Hell with Love album, making the sound a little easier and addressing the primacy of the musical style, that is very far from metal music. Sweet True Lies continues the style of rejection of musical fury and severe drive, marching, however, in an atmosphere of melodic and glam rock.
However, the Repentless track returns to a furious drive, shrouded in the covers of symphonic musical lace, but with the introduction of vocals, musical swiftness recedes, complementing the vocals with epic echoes. However, not lingering in the sphere of violent musical vortices, Die By The Blade returns to the sphere of musical softness, again bringing female vocals to the forefront first, then introducing the atmosphere of rock of the 80s with emotional male vocal tunes.
However, the flute melodies and the chime of the strings of the acoustic guitar mesmerizes with the mystery of charming tales, continuing with the melodies of female vocals in the mesmerizing romantic atmosphere of the Oceandeep ballad. Returning again to the epic tunes Unlimited Sin walks in the valiant guise of a combat march, bringing the charm of the exploits of legendary heroes. The mysterious chimes of musical motifs again turns to the musical style of the 80s, bringing the vocal part to the forefront.
of the True Believer musical image. The severe pulsation of the This Is War combat march brings a rhythmic drive to the sound of the album, while preserving, however, the specified musical style. But whipping up the whirlwinds of epic inspiration, Heart Of Steel envelops the listener with symphonic romanticism in a similar sound. Completing the main part of the album, No Surrender weaves musical passages with vocal phrases in a single dance, captivating many with inspired youthful memories.
The final fragment of the album is the interpretation of the sound of the legendary bands's song Killed By Death (Motorhead Cover), the overall contrasting sound of this group - and a rethinking of the No Easy Way Out (Robert Tepper Cover)song, the original of which fully embodies the atmosphere of 80s music.