December 05, 2017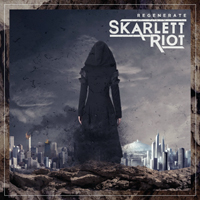 Mysterious fog envelops obscure dusk, then the Break music in a diverse mood combines a riotous manner and emotional melody, starting the Skarlett Riot - Regenerate album with an intriguing composition.
The pulsating waves of the drive, over which the banner of the keyboard part develops, begins the Closer composition, accelerating in the unrestrained rush of the verse. The chorus calls for romance, a lyric shawl enveloping a further musical story.
Rhythmic music pierces composition Stand Alone, which transmits bright waves of feelings embodied in vocal experiences.
In the What Lies Beneath introduction and verse music becomes thicker, denser, heavier, but in the chorus the vocals lift up the sound to the sunny rays of bright emotions.
The power and drive of the guitar riffs have combined with thoughtful keyboards notes and vocal reflections into a vivid and unforgettable Calling composition.
Again the violent power pulsates in the Affliction introduction, then tender keyboards passages and gentle vocal phrases change the musical image, but the power returns, raising the vocal part to the top of the flow of tough unhuried symphony.
Vocal thoughts bring in a gloomy and painful mood, created by the Outcast introduction stream of hope and faith in change for the better.
After the pulsating might of the Paralyzed intro, a stream of power metal energy appears in the verse, then in the chorus the vocals elevate feelings and emotions to the top of the musical image.
Romance and emotions envelops with the veil of The Storm musical motifs, then the singing lady, together with the pulsating heartbeat rhythm of the section, strengthens this mood.
Rapid and defiant in its rebellious energy composition Warrior completes the album, vigorous musical passages and clear vocal phrases tearing into the rumble of the battle.