October 01, 2020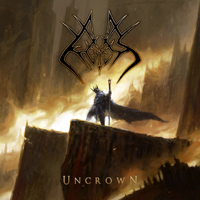 Combining drive and melody in a single musical stream, the Burn Them song begins the Ages (SWE) - Uncrown album with a bewitching combination of power and charm. The Illicit State pulsating mid-tempo march brings vocal reflections to the fore, but then complements the epic swiftness of guitar passages crowned with vocal emotion.
x>Bringing vocal phrases to the fore of the gloomy anthem the Illicit State complements her procession with musical passages. The music then picks up the pace in a whirlwind of inspiration, but remains on the verge of mid-tempo narration. The inspirational sound of A Hollow Tomb mesmerizing saga takes you into the vastness of mystical dreams, combining the melody of acoustic passages with the emotional inspiration of a mesmerizing drive. After a thoughtful introduction, the Dominionism develops his motives in the vastness of mystical tales, taking us into the confines of a dreamy mystery.
Twisted in a round dance of the main motive the Undivine wraps around the vocal part with this vortex. The Uncrown album's title track fuses and unites music and vocals in a single musical stream. The epic motifs of legends and sagas roll in waves of The Death of Kings of Old musical narration, crowned with vocal phrases. Beginning with a bardic ballad, the Pyres concludes the album with an epic atmosphere and impressive melody.