June 01, 2018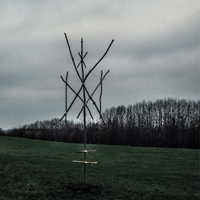 Vocal immediately complements the music with wordless emotions, starting the Wiegedood - De Doden Hebben Het Goed III album with a twilight melody woven with emotional vocal reflections. But the impetuous drive of Prowl verses sometimes turns into a dark roll of a pulsating marching choruses. efore the final part, the obscure buzz of distorted guitar motifs precedes the phrases of ghostly spirits in the background that the vocalist tries to discard but they inexorably complement the completion of the composition with their vague speeches.
Vocal immediately captures the dominant role in the composition, rolling the clock with an explosion of emotions and ending with significant instrumental breaks. But then Doodskalm is carried away on the wings of ghostly demons, but keeping the enchanting melody - that delights the audience while causing expanding of the musical trends by enveloping the rapid and uncontrolled drive with sparkling veil of epic romance. The instrumental part is even more fascinated by the epic motif bringing the honor of medieval knightly ballads and heraldic sagas, enveloping the valiant importance and legendary significance the composition's final.
Invisibly making its way through the enchanted haze of acoustic De Doden Hebben Het Goed III intro, the title's track main motive confidently subordinates his mind, marching along a certain path and enveloping his passages with spectacular melodic shades, transforming into a gloomy drive in instrumental bridges.
Blowing in the impetuous stream of frantic drive, Parool intro focuses on the introduction of vocals, but again sweeps swift rush! But then the music turns into a majestic mid-tempo saga, wrapping vocal phrases with fascinating melodies. But in the instrumental part, the speed returns again, combining both these streams into a very successful completion of the album.