September 13, 2020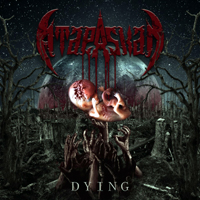 After a pacified ballad with wordless chorales of female vocals, the What Are These People Doing soars in an unrestrained musical stream of impetuous drive, hastily rolling in whirlwinds of guitar riffs with harsh phrases of vocal anger. Then the title track continues the Atapaskan - Dying album with a majestic march of the solemn anthem into the intro, accelerating the musical canvas before the vocals intro, then complementing it with epic echoes of knightly sagas. The Battle With Life continues the style of the title track, creating the atmosphere of a bardic tale in the intro, but then again hardening the musical sound to the vocal intro, deepening its harsh growling.
Rolling with the furious echoes of battle marches and war songs, the War Machine simplifies the sound of music in a musical thriller on the verge between a mid-tempo march and a fast-paced drive. The Prophecy explodes with accelerating musical fury into the intro, anticipating the vocal intro with a mid-tempo instrument bridge. But then, together with an even more fierce vocals, they again carry away in the unrestrained impetuosity of musical fury and again repeat a similar alternation. Chimes of drums and brooding guitar passages create the Final Destination intro's intriguing atmosphere, then drum rolls anticipate the vocal intro, first along with a mid-tempo march, then soaring into a more accelerated sound.
Rolling with rhythmic waves of musical sound, the Fight Untill Die introduction creates an atmosphere of a battle march, drumming the anticipation of the acceleration of the tempo and the whirlwinds of the musical drive. The viscous and viscid atmosphere of the Seconds Remains to Death intro's sound complements the stylistic framework of the album with the influence of doom death music style, but then, maintaining a similar tempo and style in the vocal part, the music explodes with unrestrained impetuosity. The guitar solo, memorable by melody and thoughtfulness, begins the final composition of the album, the Murderers then rushes to its completion with a furious whirlwind of impetuous drive.