January 08, 2019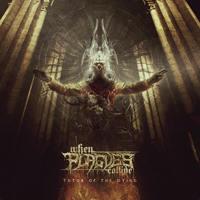 The mysterious whisper of invisible ghosts envelops the mystery of the chorales of majestic maidens, anticipating the union of such diverse styles and trends in a single musical canvas. Thus, in a unique way, Messengers Of The Holy Falsehood begins the When Plagues Collide - Tutor Of The Dying album, complementing the symphonic dreams with harsh passages of a gloomy drive, weaving together the diverse unity of screaming and growling in a vocal part.
The Fertilization With The Body Of Men introduction appeals to the recollection of musical origins, then vocal changes envelop in obscure darkness, musical passages follow changeable vocal phrases. Developing the leitmotif of the album with romantic acoustic passages, continuing the intro by the enchanting chorals of female vocal Legion then whip up a wave of dark drive, while preserving, however, the fascinating romanticism of the musical image.
The impetuous wave of furious drive, intertwined with the mysterious trends of Gothic motifs, raises with Dictating Violence (Feat. Ben Duerr) fierce wave of unreliable dusk, then slowing down in a hazy haze of thought, but again returning to rampant rage. Then charming keyboard motifs come to the forefront of the composition, weaving together harsh vocal and instrumental turns.
Mystical acoustic passages, indistinct vocal reflections and background chorals are combined in the Als Imperatieve Grootmacht sound, anticipating the further development of the Tutor Of The Dying title track as a stream of impetuous and irrepressible drive. However, meditation and mysticism complement the musical image in the bridges.
Overpaying the growling and screaming dispute in a single musical lace Fleshmould (Feat. Luke Griffin) creates so fascinating union of vocal styles and musical transformations.
A captivating acoustic romance calls out to ghostly shadows, invoking reflections of magic and a reflection of forgotten charms. But then the Belials Archetype vocals appeal to the hardening of the musical flow and the addition of a charming melody with severity and rigidity.
Starting with pulsing vocal exclamations, instrumental passages march after - then Marked For Destruction (Feat. Tim De Ridder) explodes in a stream of impetuous drive, but returns to the pulsing march again.
The leitmotif is manifested in the introduction, for the duration of the entire Corpus Maleficus composition remains invisible in the background, but clearly influencing the further development of the musical canvas. The instrumental Vows ballad, full of mysterious mysticism, completes the album with a haze of obscure riddles, anticipating future sacraments and charms.