June 16, 2022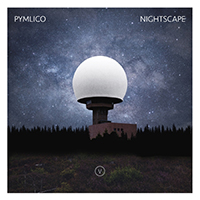 Enchanting musical variations are intertwined in a bewitching lace of artistic inspiration, revealing the music book of the Pymlico - Nightscape album with the bewitching mystery of the Wide Awake composition, elevating guitar solos in a sparkling flight to unknown discoveries.
After the intriguing mystique of the intro, the Gabagool track captivates with a mesmerizing guitar solo and an artistic musical transformation that wraps around it, taking you on an adventurous journey through imaginary musical temptations.
The Tofana 10am musical motifs take you on an exciting journey across so fascinating spaces.
The saxophone creates a bewitching charm of romantic thoughts, setting the main motive of the Room With A View musical path, using the support of other instrumental motives in the journey along the chosen path in a charming instrumental solo, captivating melodic charm to the realm of dreams.
Playfulness and rebelliousness are intertwined in the charming artistic Ghost Notes dance of a progressive musical festival, captivating the listener to plunge into the atmosphere of musical artistry and become part of it.
Once again, the saxophone comes to the fore in the Road Movie musical image, alternating and combining with wordless vocals chorales and wistful artistic charm of the guitar solo. Taking you on a journey through the mysterious expanses, the Silver Arrow final composition of the album takes you into charming transformations, bewitching with unexpected musical transformations in an atmosphere of unhurried thoughts with notes of light sadness.