August 18, 2020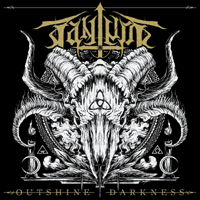 An epic canvas of the Dusk from the Ashes mid-tempo mesmerizing saga envelops the beginning of the Tantum - Outshine Darkness album with enchanting covers of a mysterious fairy tale, enveloping vocal phrases in an enchanting haze. Slightly accelerating the music in a restrained stream of drive, the Emptyness' Call then returns the epic style with the vocals.
The Blackest Light creates a whirlwind of drive in a furious dance with the influence of oriental motives, winding the vocal part in a spiral of guitar whirlwinds, but marching with a more measured step in the bridge and chorus. The mesmerizing mystery of epic sadness envelops the twilight instrumental symphony of the In Natura Restituto Ignea track.
The rhythmic pulsations of the solemn Mourning of Corruption saga gains the charm of the majestic anthem and the battle march in the rapid anticipation of the introduction of the vocals, marching in unhurried significance. The muffled mystery of the whisper of clean vocals is then transformed by the solemn grandeur of the Dying Gaze mesmerizing ballad that develops the motives of the instrumental saga that was heard before in this album's music.
The The Answer in Thyself main motive rolls over with an irresistible desire to march along the path indicated by him, tensely and desperately carrying vocal tunes along the track laid out by musical passages. The Harbinger of Doom concludes the album with an incredible variety of an epic saga celebrating the influences of the melody that has become the album's theme song.