August 01, 2017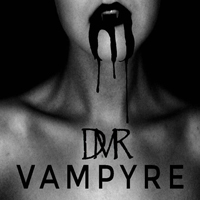 Ghostly, mystical twilight and rigid riffs intertwined in joint dance starts Dead Man Risen - Vampyre album, waving as a tangle of invisible impulses. With the introduction of the vocal hard drive begins to prevail, but keyboards passages contributes to the original I Bring Death sound.
A muffled buzz starts the search for Lost Boy, then a whirlwind of guitar drive circles around the lost tracks in search of tracks, breaking off in rapid rushing in the bridges. Well, the title track is on most albums, but the abbreviation D.M.R, performed by the album's cover, means the name of the band. Power, anger and rage rolls in dark waves, the vocals complement the hard sounding swims with furious phrases.
In some ways, the antipode of the first composition - combining a romantic twilight and a frenzied drive, the sound of Delusion is dominated by lyrical romance, harsh power provides a dense and energetic sound. The pulsating entry Infinity triggers a space key passage, replaced by a hard, assertive sound - as if marching a squad of experienced space guardsmen. In the instrumental part, a guitar solo brings a share of sensual romance, recalling the past battles. Vocal reflections and keyboard passages supplement these impressions with their influence.
The intriguing fairy tale Dracul takes us to the gloomy fog of medieval uncertainty, blurring the obvious images - music hovers around dark waves of hidden anger and restrained frenzy, anticipating an unpredictable danger. Vocal complements a variety of growling with a demonic screech of screaming.
The title track of the album Vampyre is impetuous, energetically entering, the vocal connection compresses the shackles of the tempo, hindering the sharp sound with invisible fetters. With the change in the vocal key passages complement the sound of emotional lyrics, thickening the impenetrable twilight of half-forgotten legends. But then the vocal rushes into an energetic jerk of the chorus, after which it again returns to the pensive expanses of a romantic fog.
The night frenzy of a ghostly disco falls upon an unshakable Shameless, enveloping from all sides with an obscure charm and vague desires, capturing into the spaces of imaginary dreams and unimaginable temptations.
The stern head of the introduction Embrace The Abyss draws into the abyss surrounding the whirlwinds of gloomy spirits and the ghostly charms of the undead leeches. After a violent verse follows combining screaming and groening bridge, then again the verse raises the power and pressure to a higher level. This alternation repeats again and again.
Alarming experiences, a sense of horror of the surrounding danger combines in the leisurely reflections of the introduction of Nightmare, then in the verse the music accelerates the tempo to the average, in the chorus again turning to the style of the sombre sensual ballad, completing the album with the atmosphere of a terrible sacrament.