March 06, 2017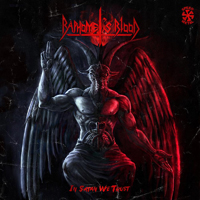 Baphomet's Blood - In Satan We Trust covers a strong and persistent drive, pointing out - that the spirit of rock 'n' roll will live forever. Even in Hell!
The whisper of an old, hoarse witch tells a gloomy and eerie story, fame about adherents and ministers of creepy cult Command of the Inverted Cross. Then the chorus sounds of servants, develops into a splash of musical drive, carrying away on the waves of guitar riffs.
The title track from the first moments dips into a whirlwind of violent drive, squeezing the rhythmic and even vocals of the musical boundaries. Why In Satan We Trust recognition should be complicated?
Laces of pensive shades of dark atmosphere of guitar inserts smoothes simple Hellbreaker history of vocal phrases, so thickens the image of the musical pattern.
Realm of Underground Demons surrounds us with quick, harsh riffs that unite the dark demonic entity with a hurried story of their deeds.
The answers of the hoarse-witched witch to the phrases of the radio announcer begins Triple Six story, breaking into a sharp and rapid rush in the verse, embracing short vocal phrases with powerful high-speed musical flow. After the chorus, the music brings to the front edge a dreamy melodic guitar solo, but fast drive returns again.
The vortex of guitar riffs swirls the sound with dusty winds, blowing away Infernal Overdrive to the distant lands. But after a speedy piece the melody slows down to a rolling march, exaltedly and proudly announcing the triumph of guitar solos and sharp vocal phrases over high-speed rushes. ut the speed does not reduce the pressure - it returns again, completing the composition.
A share of wild west taverns brings Whiskey Rocker, dipping into the depths of a violent drive in a quick and abrupt manner, pouring a full glass is the final!
Elég (Fáraó cover) completes the album, bringing the spirit of the usual and necessary impulses and the English lyrics in the interpretation of this composition.