June 17, 2022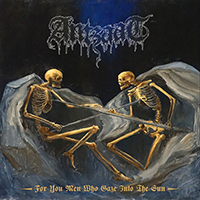 Symphonically, the Intro opens the gates for the musical narrative of the Antzaat - For You Men Who Gaze into the Sun album, into which the vocal part of the Between the Beginning and the End song bursts through the twilight expanses of ghostly haze, then rejoining in an enchanting dance with musical transformations and the artistic solemnity of the procession of the dark anthem. The For You Men Who Gaze into the Sun title track continues and develops the album's leitmotif, thoughtfully and mysteriously concluding it with a wail of proclamation, the ambassador of which explodes with a frantic musical thriller, enchantingly intertwining drive, melody, rage and anger in a single musical stream.
The music will create a suitable sound for the opening of the books of the page of the Crown of Concrete musical fairy tale, that are aptly and successfully combining musical drive and vocal inspiration for the appeal of epic musical mysteries.
The music weaves vocals with enchanting threads and ribbons in the sound of the Through the Eyes of a Rotten Mind composition, leaving intrigue before the mysterious entry of the Radiant Fire mystical fairy tale, enveloping at first with an obscure haze of fascinating expectations, but then billowing with the rapid flight of a musical dagger.
After the pressure of the introduction, the vocal part is brought to the forefront of the Veil of Darkness composition, using all-round musical support, enveloping it with covers of epic echoes of bardic songs and heroic legends, anticipating the explosion of fierce anger of the Man Made Flesh Made God Machine musical thriller, weaving music and vocals in a joint whirlwind of frantic musical drive with shades of northern legends and fairy tales. The And This Day Shall Come Again composition will conclude the album with great and insistence, embodying the essence in the unity of northern motifs, epic sagas and a fierce musical drive.