December 04, 2020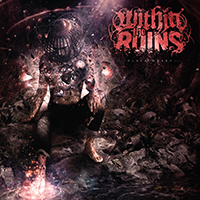 Mysterious echoes of mystical rituals set the intriguing atmosphere of the Domination introduction, ending with an enchanting guitar solo, after which the vocals in unity with a frenetic drive manifests the assertive essence of this song. Progressively intertwining musical artistry with vocal variation, the Deliverance composition brings nuances of originality to the musical circle. The Within The Ruins - Black Heart (CD1) title track continues the musical narrative of the album, beginning with a sparkling guitar solo, which is then embodied in the leitmotif of this track.
The guitar solo embodied in the artistic sound of the Open Wounds main motif enchants with sparkling melody and vivid echoes of fairy tale narratives. Then the Eighty Sixed instrumental composition in bright guitar improvisations combines epic echoes of ancient legends with classical music influences. The artistic unity of vocal emotionality with the progressive complication of mesmerizing musical variations weaves an impressive musical lace of the Devil In Me song, alternating in the vocal part between dreamy invocations of clear vocals and demonic vocals growlings.
An intriguing guitar solo rolls out the musical canvas in anticipation of the Hollow introduction of significant vocal phrases, then enveloping them with mesmerizing guitar riffs. The musical improvisation of the Outsider song's intro sets an intriguing mood for the rest of the listening experience, combining epic musical motifs with assertive drive and rhythmic vocal declarations. After the romantic allure of the musical variations, the RCKLSS vocal part brings an unyielding pressure of recitative wrapped in a veil of mournful romanticism. The Ataxia V track concludes the album's musical tale with a vivid flight of musical imagination.
In addition, for a fuller and wider disclosure of the sound of the band's compositions, this digipack provides the Black Heart (CD 2: Instrumental) disc with instrumental versions of the songs.