March 18, 2020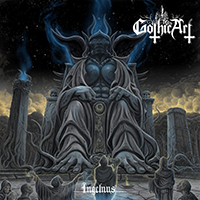 The organ's symphonic suite creates the backdrop for the baby's crying for the newborn, then the music unfolds the given tape of the GothicArt - Ingelnus title track's musical motive, braiding with the varied echoes of the pre-arranged symphony the vocal part, in which the vocal phrases of the singing lady are dominated, complemented by male adherents' chorales. The acoustic charm and symphonic melody are intertwined with the vocal part, combining male and female vocal phrases in a single musical stream intertwined in the lace of the Old Man And The Witch majestic romantic saga.
Female vocals lead the main motive of the Sorcerer story, supplemented by the howls of male vocals in the background, the musical passages remains in a support atmosphere, but then the musical passages develop their motifs to the charm of symphonic lace. Book Of Legacy develops the musical ideas laid down by the previous composition, raising the inspired phrases of female vocals to the crests of the waves of the musical sea. Weaving a bewitching canvas of musical artistry elevates the emotional experiences of female vocals to the top of the musical narrative. Soft pacifying chime of acoustic strings intertwines in a bewitching dance with dreamy phrases of female vocals, complementing the album with by as kind of medieval minstrel ballads, that starts the Surrender To A Dream Part One song dilogy.
The vocal part captivates with a terrifying story, then the guitar solo comes to the forefront of the No Mercy musical narrative, twisting a bewitching lace of doubt and ambiguity. A very peculiar interpretation of the legendary composition Come To The Sabbath (Mercyful Fate cover) of the luminaries of musical stylistics is an unexpected flap of the musical tapestry of this conceptual album. A round of musical variations anticipates the symphonic mystery of the Surrender To A Dream Part Two musical romance, completing the dilogy of this composition with an instrumental symphony.
Walking through the gloomy mystery of a symphonic charm, the Black Priest music embraces the reflections of male vocals by means of mystery and intriguing developmental paths. The Since Forever composition completes the album with the most diverse and impressive epic wide-format musical variations - it should be noted that in addition to musical and acts, a vocal transformation from sublime dreams to furious growling is also manifested here.