September 24, 2020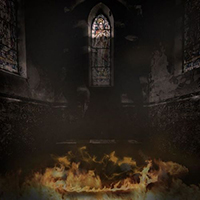 The title track starts the Dark Rites - Dark Rites (EP) album with the rhythmic pulsation of a battle march, varying tempo and rhythm and combining growling with clean vocals in the vocals. Then the Faces In The Crowd is chased by the fast-paced drive of musical unrestrainedness, combining screaming and growling in vocals. In the middle of the composition, the vocals are transformed into a mysterious whisper in the mysterious twilight of musical reverie.
Returning to the mid-tempo sound, the Buried Within song raises the frayed banners of the dark anthem, somewhat accelerating the tempo in verses and returning to a leisurely march in the choruses. The Hall Of The Slain begins with a rhythmic procession of solemn anthem, then accelerates in a whirlwind of drive, wrapping around the harsh vocal narration with guitar riffs. Immediately escaping in a whirlwind of unrestrained drive, the Dyatlov song anticipates the vocals intro of a melodic guitar solo, returning to a swift rage saddled with vocal phrases.
Varying the rhythmic structure, the John Frum track intrigues with a mysterious introduction, then fascinates with the unity of music and vocals in the essence of sound. Long intriguing with the development of intro, the Bleeding Kansas song then develops a tight mid-tempo march with growling vocals in the verse, raising the banner of the musical anthem in the chorus with dreamy melodies of clean vocals. The majestic intro march returns in instrumental bridges and choruses, accelerating the pace of the verses of the Murder Capital album's final composition.