November 14, 2021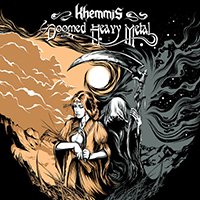 A song that left an indelible and unforgettable impression on many artists, performers and music fans begins the Khemmis - Doomed Heavy Metal release. But not the original version - the Rainbow in the Dark (DIO cover) is reworked and re-mastered by the members of this band, bringing original shades both in the vocal part and in its musical sound and variations of instrumental passages.
The vocals crown the rhythmic procession with emotional inspiration, combined with the musical revelations of the Empty Throne track.
Once again reinterpreting the work of legendary artists, the A Conversation with Death (Lloyd Chandler cover) song brings to the sound of the album quite recognizable motifs, but changed in the atmosphere peculiar to this release.
The further sound of this musical artwork moves from the recording studio to concert venues, complementing the sound with the atmosphere of live musical performances.
At first the dusky introduction is preceded by the mesmerizing sound of the Bloodletting (Live) vocal, then the listener is struck by the fierceness of the music and vocals of the Three Gates (Live) musical thriller. And the final point of this release is the twilight atmosphere of The Bereaved (Live) saddened ballad.