June 28, 2019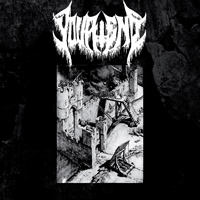 With a gloomy haze and viscous canopy of dark celebration Rot In A Trench begins the Your End - Your End album with a streaky musical canvas. But then the vocal phrases stretch the dark triumph, and the music is riding away like a swift drive.
A viscous and gloomy haze hacks the Brutal Overwhelming Phalanx musical canvas with darkest forebodings, creating the twilight haze of a dark celebration. But in the final part, the music rushes into the race of rapid rage, laying the foundations for the musical image of the next composition Half-Exploded Body, Knotted Entrails, carried off in an unrestrained race of furious malice and immeasurable rage. Body Enslaved is even more impetuous in the introduction, then weaving irresistible ways of the main motive. Music envelops the vocals with a tunnel of fast-moving passages, but then the vocals impose a midtempo narration.
Continuing the pulsing, swift drive against the background of the musical canvas, the obscure echoes create an atmosphere of inexplicable horror, then with the connection of the vocal to the Of All Evil musical narration the tempo tightens vocal phrases in gloomy fetters.
Gloomy covers continues in the Superior Beatings For Worthless Scum introduction to raise the banners of the dark anthem, rolling in waves of pulsating darkness. After the vocal entry, after a brief pause, the musical passages are carried away by swirling whirlwinds on the wings of the evil rascals of impetuous drive, then from time to time returning to the pogroms of the dark anthem. The epic mysteries of an obscure musical haze completes the composition, but Makeshift Mace Execution intro dispels these mysterious puffs of smoke by a tough procession of black knights, whose procession is announced by the dark warlord. Then the vocals are woven with a pulsating music drive, bringing the exciting passages of a dark melody in the instrumental bridges.
The album closes with Blasphemous Attack (Blasphemy Cover), paying homage to the legendary group, which has become one of the black metal music style origins.