August 15, 2021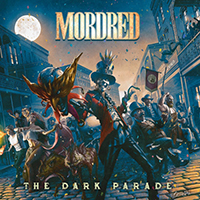 The Demonic #7 composition begins the musical narration of the Mordred (USA) - The Dark Parade album with unexpected combinations of styles and genres, combining violent filing of a musical drive with the shades of popular music. The Malignancy track continues the musical narration as unexpected combinations of musical essence.
The I Am Charlie song again and again emphasizes its name in the chorus, creating an intriguing atmosphere in the chorus. Rolling the echoes of the former inspiration, the Dragging for Bodies composition again and again varies the combination of styles and genres. The title composition of The Dark Parade album gives certain extensions of theatrical artistry progressively combining the mouse and vocals in a musical sound.
Vocal meditation by the nasty appeals crowned the All Eyes on the Prize musical image. The sound of the Dented Lives song, while maintaining a genre surprise, envelops the atmosphere of progressive mysteriousness. The Smash Goes the Bottle expanding the stylistic spaces of the album, thats song is completes its rock'n'roll ulief.