August 20, 2019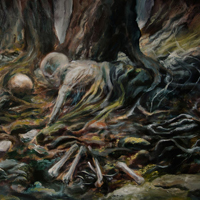 Bursting with a stream of drive into the introduction, Sinking Transient Waters song before the introduction of vocals thoughtfully rises in the dark, then again and again repeating the alternation of gloomy drive and viscous instrumental bridges and severe vocal reflections of deep growling. The Reek of Loss continues the Krypts - Cadaver Circulation album sparkling with a bright guitar solo at the beginning, then transforming it into the main component of the main motive.
A thoughtful narration of the Echoes Emanate Forms composition surrounds the musical passages of the main motive, slowly walking in painful musings of a gloomy waltz and a dark anthem. Painful thoughts leisurely, meaningfully and pensively pace the musical narrative of the Mycelium dark anthem, longly and painstakingly preparing the introduction of vocals, pumping some acceleration in the tempo of the musical composition.
Severely and deeply confusing the insurmountable paths of musical passages, the Vanishing song so rarely supplements the sound with vocal phrases. The gloomy grandeur of the Circling the Between composition completes the album with so dark solemn passages, interlacing mesmerizing variations of dark reality and mesmerizing with gloomy temptations of obscure charms.