May 20, 2023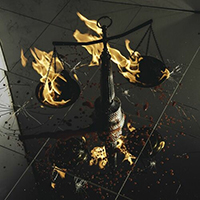 The title track, divided into a dilogy, begins the Judiciary - Flesh + Blood album with a rolling and furious Flesh march, confidently led by the vocal part along the chosen musical path, sometimes wrapping the vocal passtale with the covers of oriental motifs, embodying them in full in a charming guitar solo that precedes and then becomes part of the chorus. The intro of a bright and sparkling whirlwind of guitar solo begins the final dilogy of the Blood composition, progressively and artistically varying the musical style and tempo.
Pumping up waves of furious drive, the Engulfed song then weaves music and vocals into a single musical stream, emphasizing the rhythm of the sound with an assertive rhythm section, continuing the mid-tempo procession in the harsh assertiveness of the sound of the Paradigm Piercer battle march, further emphasizing the rhythmic stop in the sound of the Knife in the Dirt composition.
Whirling in the intro with a whirlwind of a guitar solo, the Stare into the Sun song again returns to the usual rhythmic tread in the sound of the album with the introduction of vocals, sometimes exploding with a furious whirlwind of guitar solos in instrumental bridges, foreshadowing similar musical variations in the sound of the Cobalt composition, intriguing with changes of tempo, musical variations and vocals rush.
After the introduction, the music and vocals of the Steel Hand God song are whirled by a whirlwind of a musical thriller, but then jointly pacifying the musical tempo for the sake of the subsequent contrasting transformation, continuing similar musical transformations in the sound of the Obsidian composition, bringing the vocal part to the forefront of the musical image, then completing the musical story of the album with the Eschatos Hemera twilight musical fairy tale.