September 23, 2021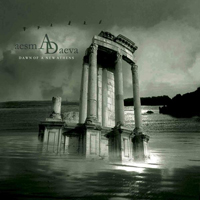 The muffled opera chants of the singing lady create an intriguing atmosphere of intro, then continuing a slow solemn march, combining the sublimity and musical charm of the Tisza's Child symphonic musical canvas. The Bluish Shade continues the Aesma Daeva - Dawn Of The New Athens album that completes the musical stylist with the influence of oriental motives, somewhat accelerating the pace of the musical procession.
Majestic musical passages of the Artemis song's intro is fascinating artistry and mystery, then combined in a leisurely romantic dance with vocals phrases. The instrumental parties uprises on forefront of the Hymn To The Sun musical image, then combined in a progressive musical composition with emotional vocal appeals, ascending their experiences on the ridges of musical waves.
Again the change of the dominant component in the D'oreste musical composition - vocal phrases are raised to the foreground, reinforcing sound symphony and even more focusing the operatic style of the vocal part. The Camp Of Souls retains the dominant position of the vocal party, but somewhat transforms the stylistics of musical sound, bringing the effect of ancient fairy tales and epic legends.
The drum fraction and intro's guitar solo is setting an atmosphere of the Ancient Verses battle march, topped with chants of singing lady. The vocal arty immediately emphasizes the name of the Since The Machine composition, complementing the main female vocal background support, but then the vocal phrases are retreating before the tight pressure of guitar riffs and the intriguing keyboards artistry. But then the music and vocals are combined in a single sound, again and again transforming and varying his musical appearance in an incredible variety of stylistic and genre shades. The Loon completes the musical release of pensive thoughts of vocal, marked with so mysterious musical tunes.