July 05, 2016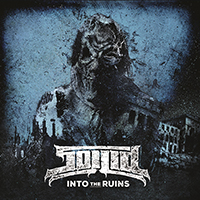 After destroying all around, no way out - have arrived Soilid - Into The Ruins .
Dreamy, thoughtful brings Alone to its further path, enslaved melodic guitar inclusions and inserts gutural growl.
Midtempo story Smash The Crowd anticipates future path, prevailed in bridges that playfulness is slowing, it goes!
Powerful drives its way into the consciousness, prevailing its path into unconscious, Armageddon goes on! Splits mind to pieces with his powerful punches, moves on through the splinters!
Dreamy solo turns into crushing riff, heeding and calming down under the blows of the Live Fast - Die Young, continued by the strong rhythmic jerking, inspired by the melodic guitar riffs attributes as well. There's a lot of meanings, so you have to heard that!
The mid-tempo track starts, a short spurt completes entry by opening the way for Parasite, which continues its path alternating between the average rate, with melodic guitar inserts with bouts of violent anger, which is poured out from the parasite.
Anger and tage radiated already ny the intro of the Eternal War. Then slowly stretched verse rhythmically hammered into your mind waves of hate. Melodious bridges draws a line in front of the rhythmic cries of the crowd in chorus. The rhythmic grinding ends the track.
Grinds obstacles track dedicated to those who Condemned To Bleed. Slowly goes the story, driving every sentence into consciousness by crushing hammer!
Slowly, persistently and deliberately vocals and accompaniment perceive Welcome Home. After entry the pace slightly accelerated, to an average tempo. Then, a bridges between verses returns entry's melodic sluggishness for a bit.
The shots, the noise of the helicopter propeller, siren - combined in the Interlude. Powerful crushing blows opens You stay for further development, combining various rhythmic patterns and melodic palette.
The album is crowned by title track Into The Ruins. Live and nimble entry, slows down for a bit before the vocal, and then the bridge after the verse on moderate pace passing story into the chorus. Haunting guitar riff and hammering beats completes the entire album.