July 21, 2022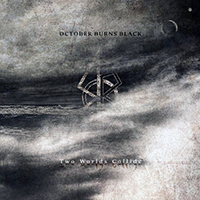 The Divide and Conquer composition begins the October Burns Black - Two Worlds Collide album with vocal doubts, shrouded in a twilight haze of ghostly musical vortices. The sound of the Black Veil brooding ballad brings notes of vocal confidence and perseverance. In the musical pulsations of the Tightrope song sets the main tone with bass accents, crowned with a guitar chime and emotional vocals inspiration.
After the introduction, the vocal story of the Regress composition brings echoes of medieval knightly sagas to the album, preserving the epic atmosphere and in the fascinating romanticism of the sound of the Fickle musical serenade. The Grand Leveller composition captures attention with a vocal story, enveloping it with background covers of musical variations.
The broken rhythm, combined with musical mystery, draws you into the twilight atmosphere of the Blind Faith song, which then crowns the crests of musical waves with vocal phrases. Rhythmically and densely, the Condemned composition drives its step into the musical essence of the album, then marching in a stubborn march to unknown goals. The All I Never Wanted musical tale brings the vocals narrative to the forefront of the musical image, anticipating the end of the album with the mesmerizing epic romanticism of the Two Worlds Collide album's title track, combining mystical echoes of legends and fairy tales with echoes of scientific theories.