October 04, 2020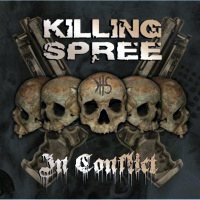 The Doom track's frightening gloomy musical mystery complements the harsh vocal narration with dark shades, twisting the sparkling lace of musical mysticism in bridges with guitar solos around vocal phrases. The guitar solo of the instrumental part brings shades of spicy oriental motives, expanding the stylistic boundaries of the Killing Spree (DEU) - In Conflict album and continuing with epic musical motives. Soaring in a swift whirlwind of mysterious drive, the I'm What You Want to Be song wraps around the guitar solo of the intro with sparkling tapes of keyboard passages, deliberating before the vocals begin to slow down, with the vocals introducing alternating unrestrained drive with harsh reflections.
Whipping up waves of restrained musical drive, marching along the edge of mid-tempo march the Lost Times crowns it with echoes of futuristic keyboard suites. The epic intro with artistry of the guitar solo sets the atmosphere of the main motive of the In Conflict title track, anticipating the union of progressive musical symphony and harsh vocal charisma. The hum of a guitar solo comes to the fore with the intro, then the November Sun pushes the waves of a rhythmic march, bringing the warlord's vocal narration to the crest of musical waves and crowning them with keyboard passages in the chorus.
Rhythmic pulsations combined with electronic exclamations of keyboard notes wrap around the vocal phrases, then crowning the Resurrection musical composition with sublime keyboard suites. Whipping up a whirlwind of drive with a guitar solo of the intro, the Dying One then marches in a mid-tempo march, creating a solemn atmosphere of a majestic anthem. The Paris in Flames song concludes the album with its characteristic sound, combining vocal significance and musical artistry in a mid-tempo procession and crowning it with echoes of keyboard symphony.