January 07, 2020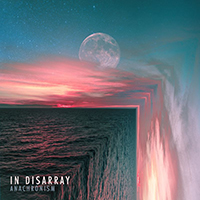 A whirlwind of swift guitar passages raises vocal thoughts, then envelops the Salvation vocal part with the musical charm of melody. Continuing the musical motifs of the previous composition, Damned Soul continues the musical narration of the In Disarray - Anachronism album, transforming the rhythmic structure into a procession of a mid-tempo march.
The instrumental charm of the Roots appears as the introduction of composition Forgive & Forget, which injects waves of an epic anthem into the introduction, then varying the vocal shades of screaming and growling, while preserving the medium-tempo grandeur of the musical canvas. Weaving the bewitching melody of guitar riffs in an inspired dance with vocals phrases Wasted Youth captivates the listener with their bewitching unity.
Artistic variations of the Liquid Stone progressive rhythmic solutions are the introduction to the Error 404 mid-tempo anthem enveloping the guitar riffs with significant and sensual vocal narratives. Preserving the mid-tempo structure Walls Of Sand rolls in drive waves, sparkling with the artistic echoes of guitar solos, sometimes embodying powerful drive rolls at a given pace. The title track Anachronism appears as an artistic keyboards and guitars solo based on a progressively ragged rhythm, representing the introduction to the album's A Different View final composition.