July 12, 2018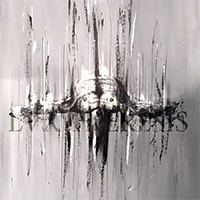 The mysterious rustling in the gloomy haze, the obscure whisper of invisible wanderers - people or ghosts, is lost in the mysterious fog of I intro. Then the first composition of the concept album Lvx Haeresis - Descensus Spiritus becomes a proud preaching among mystical spells and obscure enchantments. After a brief wave of drive, the melody and epic narrative are weaved in an enchanted waltz of mysterious invisible partners.
Confessions are intertwined with a charming melody in a fascinating lace, sparkling with bright musical passages and restrained and significant vocal revelations. Then II-III 2 throws up a violent wave of drive, after which it returns to a leisurely narrative, but rushes again in a swift stream of unrestrained throws, preserving the solemn melody and exciting drive - as if passing to the next part of the composition. However, in the instrumental bridge the leisurely solemn anthem returns again.
Returning to the traditions of black metal, IV very successfully composes exciting instrumental passages with deep vocal phrases, varying the tempo and introducing a variety of obscure dialogs of a somber whisper and ghostly grating.
Rolling out the canopy of intro with an obscure fog, V again and again returns to the dark melodic saga, from time to time throwing up a wave of furious drive, preserving the mystical charm of the magical sparkling melodies in the gloomy haze enveloping the mysterious whisperings of the main vocal part.
The viscous sound of musical mysteries envelops VI with the impenetrable fog, twisting around vocal phrases with dark visions of mysterious spirits. After a pause, there is a feeling - now the music will start, drop the misty cover and rush into the impetuous unrestrained drive to unrighteous temptations. However, the music retains the slowness of the gloomy hymn, compacting the rhythm and vocals in the final part.
The album end with, perhaps, the most successful composition VII, combining the annalistic legends of ancient traditions, the mysteries of vague prophecies and enchanting and to some extent progressive musical motifs. The epic narrative is crowned with unforgettable musical motifs - you will not think up a better motivation to listen to the album again and again!