June 09, 2021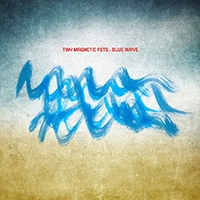 Gently, thoughtfully and with the preservation of the musical style inherent in the style, the Testcard Freaks (& Modular Geeks) composition begins the musical solitaire of the Tiny Magnetic Pets - Blue Wave album, starting the vocal part with the enchanting tunes of a singing lady. The music argues with perseverance and rhythm with the romantic melodies of the vocals, combining and alternating male and female vocals in the vocal part of the City Sleeps Tonight song, which brings shades of a romantic ballad.
Keyboards inspirations brings some echoes of classical music, combined in a mesmerizing dance with the Drowning In Indigo vocals reflections. Synthetic keyboards passages in the intro brings a touch of futuristic thoughts, but then the Broken Record music and vocals bring in a touch of age-old minstrel ballads and romantic ganson echoes in a duo of male and female vocals.
The vocal phrases of the singing lady with brooding doubts immediately rise to the foreground of the musical image of the Rear View Mirror song, setting the mood of the saddened romance. Music intensifies rhythmic pulsations of restrained drive, pumping the vocals phrases to the crests of musical waves of the AutomationAutomation song.
With a symphonic charm, the Blue Wave, Pts. I-III track combines several compositions in an epic trilogy, creating a fusion of medieval tales, futuristic musical variations and shades of vocal inspiration. The final composition of the album brings the male vocals to the forefront of the Mid-Atlantic Drift musical image, complementing the romantic tunes of the singing lady.