July 31, 2019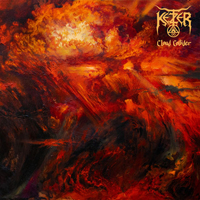 Acoustic guitar passages of The Machine envelops the beginning of the Ketzer - Cloud Collider album with an intriguing haze of musical mystery. The intro of the Keine Angst at first continues the atmosphere of epic mysticism, but the introduction of vocals pumps a wave of furious drive, while preserving the mysterious inspiration of musical passages, returning to the melodies of the intro in the chorus.
After the mysterious haze at the beginning of the Walls song, the main motive captures its sound, combining the thrash metal thriller with the melody of the guitar passages. The title track Cloud Collider continues the album in a similar style, slightly transforming the pace and bringing more significance to the musical atmosphere.
The noise of rain, a thunderstorm and thoughtful romantic passages of the Forever Death acts as the intro of the The Wind Brings Them Horses harsh ballad at the begining, that is developing the gloomy coverings of a dark anthem.
The pulsating dance of the No Stories Left main motive weaves a bewitching lace of musical passages from the whirlwinds of an inspired drive. Harsh and screaming are intertwined in the vocal part.
The epic inspiration of the guitar solo from the This Knife Won't Stay Clean Today introduction envelops in an atmosphere of inspiration and intertwines with the majestic sound of the transformed medieval knightly saga. (The Taste of) Rust and Bone musical passages sweep in a swift drive of gloomy and severe whirlwinds, but the vocal narrative retains the medium-tempo grandeur and epic tale of its part. Light Dies Last completes the album in similar musical stylistic expanses, but brings into the darkness and demonic whirlwinds the light and sparkling sunlight.