January 04, 2018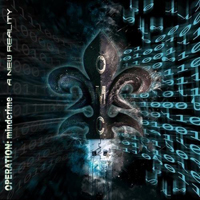 The mysterious, sacramental introduction A Head Long Jump stretches in a hazy haze, then words and phrases act as a twilight vagueness, culminating in severe musical pressure and emotional vocal phrases, opening the gates of the Operation: Mindcrime - The New Reality (Japan Edition) album.
The music immediately starts to pump the waves of the dribble, then the vocals complete the sound with emotions, anxieties and forebodings of future disasters, pointing again and again - which is something you do not want, accentuating the song title Wake Me Up in the chorus.
The mysterious It Was Always You introduction ends with indignant accusations embodied in vocal phrases, combined with complex broken rhythms, changeable guitar riffs and sublime keyboards.
So abxious, gloomy ballad combines atmosphere of The Fear with emotional vocals and a very interesting background that is created by keyboards.
After the anxious, shrouded in fear and horror of phrases, all the dangers becomes Under Control, confidence and caution before meeting with such a terrible enemy inspires a powerful musical theme, from a ballad of choruses to a mid-tempo march of verses.
The album's title track The New Reality appears as a romantic ballad, enveloping emotions and doubts, embodied in vocal phrases with covers of instrumental frills, in breeches sweeping waves of anxiety.
My EyesThe playful motifs of the suite in a single musical stream with thoughtful and dreamy vocal phrases, giving an intriguing atmosphere to broken musical solutions.
Instrumental prayer A Guitar In Church?, starting with a soft, calm motive turns into a proud, sublime wave of sparkling drive.
Electronic impulses, combined with pulsating signals and thoughtful words begin the song All For What?, irresistibly saturating the musical basis, betraying the emotional vocal party, from time to time calming for respite.
Then The Wave main motive starts the trilogy, changing again and again, changes the sound, in a thoughtful motive creating a sophisticated atmosphere that perceives everything that is happening around. The rhythmic bass guitar part creates the basis for the brief musical improvisation Tidal Change, in which guitars echo and compete with mysterious keyboard passages. The Same Old Story leaves us with the conclusion of the trilogy which musically takes it all back to the beginning.
The song completes this release, paying homage due to which the founder of this band, vocalist Geoff Tate became so famous, Take Hold Of The Flame (Live Acoustic) (Japan Bonus Track) Queensrÿche cover, with the atmosphere of fan ecstasy in a live concert.