January 15, 2018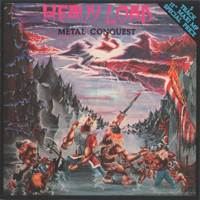 The group re-releases its legendary creations, returning time for a quarter of a century ago - Heavy Load - Metal Conquest (Remastered) appears to our attention in eternal youth of rock'n'roll spirit.
The awkward power of a discreet drive You've Got The Power accentuating with guitar impulses is combines with a harsh and at the same time emotional vocals.
Immediately the Dark Nights main motif covers everything around the whirlwind of its sound, enveloping the song's dominant vocal's performanse.
Rhythmic march intertwines with the main motive in a single musical stream, capturing the vocal follow the specified path to a distant, but such a desired Heavy Metal Heaven for all of the bands and rock fans.
Pretending in pulsating jerks, Hey worried about its path in the verses sound, explaining his concern in the choruses.
The mysterious introduction with obscure choruses on the background brings us to the main motive of the mysterious in its dark triumph anthem Heathens From The North, which is deep and disturbed in the obscure images that vortexes around the vocal part.
Turning to his fears the bard calls the children that listening his Monsters Of The Night tales to dialogue with their illusions - perhaps they are all alone lonely ghosts in need of mercy, empathy and sympathy.
So swift and energetic drive completes the album with an unrestrained stream of musical revelations, again and again accentuating and affirming that I'm Alive in the choruses.