May 09, 2023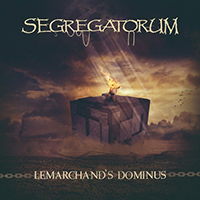 The chime of the bells, then the vocal story occupies the dominant position in the sound of the Gli scultori di carni composition, ending with vocal transformations with appropriate musical support. Further, the Segregatorum - Lemarchand's Dominus album is continued by an unhurried musical fairy tale of the title track, alternating vocals thoughtfulness with emotional bitterness, entwined with inspired guitar passages.
The mysterious introductory passages end with the rhythmic tread of the We Have Eternity to Know Your Flesh battle march, stubbornly and confidently marching along the chosen path, continuing the equally assertive tread in the sound of the Hex Of N'guize song after a thoughtful intro, returning again and again to musical and vocal thoughts.
The assertive guitar solo acts as a conductor of the Purge Of the Carnal Sins Through Transcendental Tortures main motive of the introduction, retreating before the twilight vocal conjectures, then continuing the musical story with the twilight mystery of the Nemecic inferi bewitching musical fairy tale after the enchanting guitar solo of the introduction, developing its motifs in the More Than Eyes Can See saddened ballad, bringing variety and expansion of the stylistic series to the vocal part on the eve of the rolling waves of musical drive.
The vocal part of the Nourished Wounds (Elysium Pt. 1) composition is brought to the fore of the musical image with the support of melodic musical passages, then, after introductory reflections, driving the rhythmic tread of the Initium Dolorum battle march into the chosen musical path on the eve of the end of the album with the Threnody twilight musical fairy tale.