December 04, 2019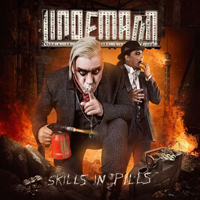 The title track begins the Lindemann - Skills In Pills album, sternly and toughly rolling waves of rhythmic drive in verses, giving up tunes of inspiration in the chorus and complementing it with recitative with a funeral symphony against the background in the finale. The powerful harsh drive of the entry is being transformed into the main motive, harshly marching with a powerful and confident march ... which contrasts sharply with the lyrics that clearly blacken Ladyboy and other mass-cultural filth.
The symphony, combined with a powerful musical drive, creates a very impressive foundation for the lyrics of the Fat song, which will be close to so many of us. Bringing notes of futuristic modern industrial echoes to the introduction, the verse of Fish On song rolls in a stern march, but the refrain raises the banners of enchanting melody and captivates the listener, then combining melody and industrial sound in the instrumental and final part.
Twilight ghostly shadows surround vocal phrases with frightening shadows, music rolls in powerful covers of the Children Of The Sun dark anthem. The soft and calm Home Sweet Home ballad dispels anxiety, casts off emotions and calms anxious thoughts, enveloping with the symphonic echoes of native places.
After a calm ballad, Cowboy stirs up the desire for adventure, rolling with stubborn, stubborn and unyielding waves of a mid-tempo march. After thinking about the introduction music rolls even more severe and rhythmic ramparts of the drive, retreating before the vocal narrative of the verse, but returning to the chorus, emphasizing the name of the Golden Shower song.
Forcing an alarming motive into the introduction after vocal speeches, the musical essence of the Yukon composition transforms these passages into the main motive. Then Praise Abort begins with vocal confessions, which can be interpreted as black humor, but they nevertheless reveal a certain essence of human existence. After these troubles, That's My Heart ends the album with a majestic anthem that captivates the listener and remains conscious for a long time after listening.