June 09, 2019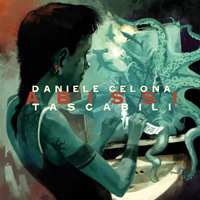 The twilight melodies of the mysterious blues of the Orfeo intro continues to saddened vocal melodies, twisting the lace of mysterious romance in the chorus. HD Blue continues the musical atmosphere of the Daniele Celona - Abissi tascabili album with a brooding romance, shimmering with sparkling melodic guitar echoes around vocal reflections.
Pulsating backups of youth drive of the SSRI (e se sarai) intro are replaced by restrained musical trends of pensive romance, complemented by dreamy vocal melodies.
The inspiration of the reflections and the confession of the vocalist Lupi nel buio (feat. Sunshine Gospel Choir) invites the greatness of the chants of the church choir, offering prayers for divine benevolence.
Dancing in a stream of restrained drive, the Shinigami (feat. Pierpaolo Capovilla) music embodies the desire for freedom, prayers and dreams of unbridled will and the embodiment of dreams and aspirations.
The majestic entry of the Memorie di un ESP intro spins the flywheel of a dreamy romantic ballad, vocal phrases twist the enchanting musical lace of a fascinating romance, but significant intro's passages return to the instrumental bridges and transform into fascinating chorus inspiration.
Fascinating reflections of vocals dominate the musical image of the I ragazzi dello Zoo composition, the musical notes of the accompaniment make a sparkling tunnel of charming fireflies around the vocal part. The acoustic romance of the Italian bard begins the La figlia dell'uomo nero composition, then the instrumental passages give an ever more vivid and freedom-loving interpretation of the composition's sound. Bringing shades of medieval motifs and bardic melodies Maelstrom (feat. Paolo Benvegnu) expands the stylistic framework of the album with marine romance and memories of the experienced storms. Starting with acoustic melodies, the final album's song 24617 sometimes fills the sound with orchestral symphonic passages.