January 09, 2021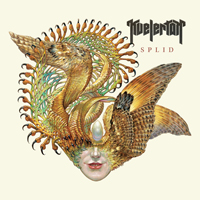 The acoustic guitar solo begins with an atmosphere of romantic anticipation, but the Rogaland vocals intro explodes with violent rebellion in a frenzied strain. Nevertheless, the music retains the flavor of folkloric echoes. The enchanting participation of a guest musician complements the continuation of the Kvelertak - Splid album with very intriguing notes, combining the Crack of Doom (feat. Troy Sanders) warlike tunes of Celtic folklore with the fury of musical fury. The Necrosoft seems to continue the previous composition, more evenly and confidently pumping up its motives in a frantic drive.
After a furious guitar intro, the Discord brings the vocals to the forefront of the musical image. But the Bratebrann expands the stylistic framework, combining the echoes of the previous composition with the northern sagas of the forgotten Vikings. The Uglas Hegemoni song finishes it off with the atmosphere of the tavern battle celebration. In the introduction, folk motifs come to the fore, setting the direction of the development of the Fanden ta dette hull! main motive.
The Tevling combines echoes of northern tales with bank vocal emotions. After the epic intro passages, the Stevnemote med Satan vocals complement them with an angry playfulness, blending into the rebellious mood of the tavern party. How can unnecessary libations and celebrations end ?! Of course, only with this - the Delirium tremens song, that begins with the enchanting romance of a guitar solo. The vocals bring progressive fracture to the rhythmic structure of this composition. The Ved bredden av Nihil puts the final point on the album, beginning with the acoustic chime of the northern bards.