September 18, 2016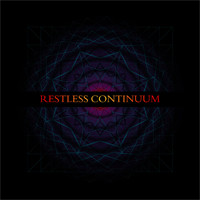 Things changes all the time, not abiding never - so Misfolded - Restless Continuum appears to us everywhere!
Drumbeat mysteriously illuminates ghostly atmosphere with its peals, next Unbearable flashes with sonorous melodic guitar riffs and demonic growl vocals and screamo, filling that weird realm with completeness and relevance of its music!
Entry intriguing mysterious sacrament that fills the essence of puzzles around which appears as Malice being in front of us. Then, the composition appears as bleak melancholy ballad, enveloping surrounding reality with viscous dark veil. The vocals includes pure nervous women and screaming-growling, combining these forms in the dramatic ending.
Organ begins Obsessions by its passage, then harsh sounds overcome ancient tune with furious rage. The composition of rhythmic, precise strokes delineates its scope, vocals harsh and staccato.
Guitar fingering begins the story of the Social Blindness, it anticipates many future incidents, combining screaming and growling in the predictions and prophecies. In the middle of the vocals soothe its pace, arranging a small holiday for forecasters, but ends similar to the beginning.
Silence Broken by gnashing carts and noise of the rain. Then a mysterious mystical ancient melody, decorated with viscous oriental folklore motive supports vampire screaming and clean female vocals of ghostly witch by its accompaniment.
Immediately after a brief quiet intro of the Irresolution music burns space around us, combining incompatible - screaming, growling and the inclusion of pure gentle vocals mysterious lady.
Firmly and persistently surrounds with angry furious riffs, dragging to the statement Death Of Anticipation. Following this brief melodic bridge, then without prejudice to thicken paint melody and again rage and anger come out to the forefront. Next - lyrical melodic bridge again, precedes the instrumental solo that ends by the witch, clean vocals of which turns into the harsh!
Soft white walls envelops, consciousness chained by usual canons - that leads to Hysteria Of Lost Integrity, combining screams, growls and clean delicate female vocals in mind's aspiration to liberate at last!
Medieval marching squad begins Restart, their pace not demolishing traditions, but bringing screaming rigidity, music crowning by the touch of soft female clean vocals.
Hard riffs squeezed the mind with tight shackles, causing him to feel Disoriented in space and time. Then incomprehensibility distorted instrumental breaks and vocal chants, that shimmer in different shades and paints with fickle tones.
Polka (Bonus Track) draws us into unrestrained dancing, beating its rhythm frantic rhythm, taking rest in the unattainable limits. This is followed by a discussion of emotional lady and demonic growling, decorating slow viscous music with multitude of shades of the female vocals. Then a mad irresistible dance returns its fury!