July 28, 2018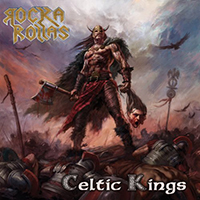 An energetic drive picks up the milestones of the road, meaningfully and confidently starting the Rocka Rollas - Celtic Kings album with a bright and lively introduction, then the vocals call with their narration The Price Of Vengeance main motive, laced with lace melodic guitar breaks.
The hammer of heroic deeds drives powerful introduction's entries into the anvil of times, then vivid melodic musical ideas come along with vocal phrases. In the From Blackened Skies chorus these streams of musical revelations are woven together.
The epic narrative is sung with rapid musical moves, the vocals elevate experiences to a different level - giving To The Gallows touch of fairy tales.
Power and melody intertwine in a bright and unforgettable musical tale, accentuating the Last Days Of Light title in the chorus, after which an incredibly melodic instrumental bridge predicts the final part of the composition.
The mysty mysterious motive with the choruses of adepts on the background anticipates the impetuous guitar solo and the unrestrained race of vocal phrases on the wings of the guitar passages, then the Knights Of Valor vocals call on the musical parties to follow their bright and changeable directions.
The Fallen Gods musical accompaniment surrounds the vocal legends more tightly and more rigidly, continuing to follow the musical canvas of the album - just as excitingly weaving the epic melody and driving energy into a single musical artwork.
Immediately, the Mountains Of The Dead main motive manifests its essence, then in the verse the vocal is raised in nervous suspicions, in the choruses the choir with the stirronnik and the guards sings the confidence and reassuring.
The introduction of the title track Celtic Kings is like the separate narrative, after which the acoustic guitar passages and violin passages create a charming atmosphere of the bard saga, the vocal part appears in multiple voices, weaving several vocals in a single tale. Then the music rises in a bright wave of drive, raising these vocal phrases is not an unknown level of sky-high fantasy.
Summarizing the collection of mysterious fairy tales Riding Wild prepares the basis for a rapid breakthrough with a grand intro, completing the album with an unrestrained flow of drive intertwined with epic melodic breaks.