May 21, 2019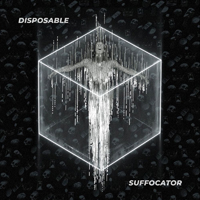 Mysteriously advancing through the twilight of the Swarm intro rolls with an unrestrained wave of fierce drive, keeping to an average pace and pumping up waves of eeriness. But the vocal entry speeds up the tempo of the verse, returning to the average tempo in the bridges and choruses with vocals recitative.
The tunes of the company, having fun in the bar, continues the Disposable - Suffocator album, anticipating the introduction, showing the main motive of Arrive Alive, Leave Dead composition, intertwining cautious vocal phrases with the covers of dark temptations.
The unrestrained swiftness of the musical passages of the Sick to the Back Teeth song carries off on the wings of a reckless drive, complementing the vocals with screaming squeals.
The music rolls in with restrained drive waves, scrolling its passages around the vocal frames, emphasizing the name of the Introverted Cross composition in the chorus.
The whirlwind of the Faceless main motive rushes uncontrollably to the entry of vocals, soaring in the eddies of severe harsh. But in bridges and choruses, vocal narration is complemented by phrases of dreamy clean vocals.
A viscous and obstinate narration, filled with the hidden power of a bitter vocal, rolls in a dark wave, but then the vocals calls for an acceleration of the tempo, from time to time, however, returning to the Graves with a viscous musical dusk. After the viscous swamp Anthropocide song's music and vocals is carried away in a rapid drive, full of indignation and rage. The title track Suffocator completes the album, weaving together all its features and properties, first deepening and bitter vocal part, then introducing into it shades of screaming and clean vocals. The title track is completed with a romantic guitar solo, bringing some ballad influences to it.