June 22, 2018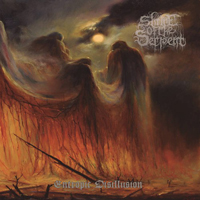 Cryptically and mysteriously begins Descend Into Dusk, plunging into the oppressive abysses of heavy gloomy passages, anticipating the further sounding of the Shrine Of The Serpent - Entropic Disillusion album in a burdened, indescribable haze. Vocal does not hurry to enter this grim darkness, waiting for the most macabre moments, not even trying to help and supplement romantic meditations for a distant thunderstorm.
Romantic meditation leisurely in soft and mysterious melancholy tunes develops the idea of the Hailing The Enshrined main motive, music painfully and leisurely carries its burden, but then the power and dark trends of vocal curses aggravate the reigning darkness.
After a brief preparation, the vocals complement the sound of the Hope's Aspersion composition with mystical trends, bringing an incredible addition of artistry to the thick and viscous musical canvases.
The frenzied buzz of chained guitar impulses begins Desecrated Tomb intro the aspirants will free themselves up, but the vocals rally the music together in a tight narrative, slowly and measuredly promote a majestic legend that does not suffer fuss and haste.
The obscure pulsation makes up the background for the mysterious unpredictable instrumental Returning conjectures, culminating in a short vocal recognition, appearing as an introduction to the subsequent composition, piercing it with mystical blades of ghostly spades.
But the instrumental power, which rejects the mysterious mysteriousness, envelops Epoch Of Annihilation viscous and dense sound, as if defending the severe armor from possible attempts, preserving the viscous and viscous sound of any encroachments. The final composition of the album Rending The Psychic Void continues the sound of the previous one, as if merging with it in painful and sorrowful reflections, continuing its motives and rejecting any attempts to wrap the surrounding darkness into something lighter and joyful.