August 23, 2022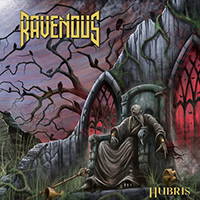 The symphonic atmosphere in unity with the inspired vocal narrative and restrained drive weave the enchanting amospheric of the musical lace of the Carnage in Carthage composition, which opens the gates of the musical fairy tale of the Ravenous (CAN) - Hubris album, then continuing in an equally enchanting musical procession with a progressive display of the musical mystery of the Astral Elixir song and the bright sound of the Son of Storms epic saga, combining musical grandeur with echoes of battle bard tales and ancient legends.
Gitar passages wrap sparkling vortices around the unshakable axis of the Die 1,000 Deaths (feat. Heinrich Yoshio) main motif, combined with the epic inspiration of the vocal narrative, further making the vocal part of the Bridgeburner composition brighter by the influence of folklore elements and fairy tale echoes. Further, the vocal experiments are joined by the assertive sound of the vocals phrases of the singing lady in the vocal part of the The Alder Queen (feat. Nina Osegueda) song.
The March of Hunger composition brings the vocal part to the foreground of the rhythmic musical march, then again accentuates the influence of folk motifs in the Claw is the Law (feat. The Dread Crew of Oddwood) musical round dance, condensing the rhythmic component of the driving verse together with vocals fury. The guest vocalist brings theatrical charm to the sound of the Onwards & Upwards (feat. Mathias Blad vocals) majestic ballad, enchanting with the unity of the melodic musical symphony and the variety of vocal inspiration. On the ...Of Beasts & Faust (feat. Vincent Jones vocals), a long musical saga concludes the album with melodies of nature and epic musical proclamations, then complementing it with a flight of inspired musical drive. In the vocal part, the influence of the harsh and growling of the guest vocalist is manifested.