January 28, 2018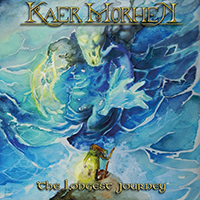 The ringing of swords, the noise of the battle and the furious cries of the opponents begin the bright symphonic instrumental saga Kaer Morhen - The Longest Journey, continuing with sad reflections on the departed warriors Dawn of the Fallen, who are to defend their souls and honor amongst the demons and the undead.
After reflection and wailing main motive Battlesworn presents grace of inspirational picture, creating an incredibly impressive image, complete with a variety of bright symphonic musical turns and shades.
Next to the prideful wanderings and battles, the nomads arrange a halt, singing along with the shadows of the spirits enveloping them in the pre-dawn A Shroud of Mist haze. These tunes end with a thunder and a bad weather, sweeping the violent restless vortex of the next composition. But after a restless premonition and a sense of danger, the Face the Storm sound concentrates in a tense readiness to meet any enemy, getting ready in a thoughtful and weighed manner, then in rapid hurried passages.
Elder World I: Land of the Wild begins an epic saga, the leaves of the trees rustle peacefully, the singing of birds and sublime tunes, adorned with trills of a flute, precede the symphonic triumph of bright power and charming instrumental frills. Having created an unforgettable melodic full of musical image Elder World II: Earthborn completes this wonderful saga, adding to the sound of romantic passages enveloping the magical enchanting thoughts.
Insinuatingly and thoughtfully Ruins and Shadow continues the legend of non-veritable legends, turning into a majestic meaningful march. Mysterious choruses with mysterious tunes precede a bright frenzied extravaganza, in which comrades call frenzied screams a violent musical whirlwind. Then follows a romantic respite, the soft sounds of the surf and the cries of the gulls precedes the majestic musical extravaganza Rise of a Legend that completes this album with so bright and unique musical charm.