January 06, 2018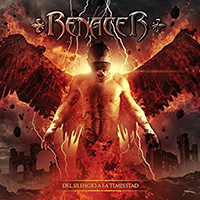 Catching a violent storm in Renacer - Del Silencio a la Tempestad album begining, the first song Cultura del Odio carries equally mad musical vortexes in verses, paying tribute to meditations in bridges and extolling melodism in choruses.
A viscous hard guitar riff with an energetic fog crawls around, giving a gloomy tinge to vocal reflections, which tend to break out of these shackles - which they quite succeed after melodic guitar passages before the Corazon Salvaje chorus.
The Idolos de Carton introduction performs severe pressure, further preserving zealous confidence, diluted by swift passages, dreamy vocal phrases and melodic guitar solos.
Voces en el Viento melody sweeps through the ages and spaces, enveloping us with the main motive from all sides, then it is supplemented by vocal phrases and rhythmic delights.
The annoyed severe drive Adicto a la Gloria densely rolls in waves, then after a pause the vocal part complements the vivid and proud motives. In the instrumental part there is a kind of ballad, but then again a violent march with nervous vocal screams completes the composition.
Already in the introduction, the La Sangre No Es Agua main motive is shown interestingly and ambiguously, in a verse incarnating in a rapid discouragement, summing up pensive thoughts in a chorus enveloped in melodic vortices.
Thoughtful reflections are embodied in a romantic ballad El Presente Es la Verdad that raises emotions over the ordinary, extolling romance above daily worries.
In this composition, Morir para Nacer, seems that all the shades of style, bringing both the waves of drive, and romantic passages and changeable guitar riffs were embodied!
The spiritual Sed de Libertad motif captures in its stream the vocal part, together with it creating castles in the clouds and portraying unimaginable prospects.
So fascinating thought captivates in the sensual atmosphere of the romantic ballad Renaceras by anticipating vast excitements and a sensual atmosphere, overwhelmed by the title track Del Silencio a la Tempestad, in which the music first comes back to the unrestrained fury of the entry of the first composition, then complements it with melodic shades and vocal improvisations.
Introducing the rebellious, energetic, eternally young spirit of rock'n'roll Leyenda del Rock completes the album with energetic passages, urging you not to back down and not give up - forward, tirelessly, without fear, without reproach.