June 12, 2018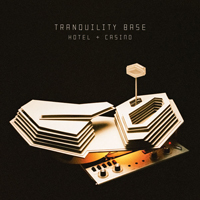 Thoughtful and restless thoughts Star Treatment begins the Arctic Monkeys - Tranquility Base Hotel & Casino album, which seems to return a century ago, enveloping the reflections of the lounge of the beginning of the last century Playful notes, the word the toy is wound up unintelligible One Point Perspective vocal reflections, untwisting their reflections, and invoking with their playful invitations a bass guitar solo.
American SportsSharing musical parts - vocal phrases scurry between the buzzing notes of keyboards and broken, progressive and jazz guitar performances.
The title track Tranquility Base Hotel & Casino envelops with the charming atmosphere of the ballad, pensively pondering over the continuation of the album.
The pulsating Golden Trunks motif, like a heartbeat, continues the album's sound, concentrating rhythmic clapping with the Four Out of Five song summing up vocal phrases. The playful round dance progressively reflects itself in a complex rhythm, atristically enveloping The World's First Ever Monster Truck Front Flip vocal phrases with incredibly complex reflections, as if enveloping vocal phrases of enchanted music. Pulsating in an unclear heartbeat Science Fiction incredibly complicates the rhythm, leaving the lounge vocal like a stranger, but surprisingly combined with musical decisions.
Densely rolling the wave of the main motive after dense jazz reflections She Looks Like Fun pulses confidently and clearly. Anticipating the mysterious vocal phrases Batphone delivers narration in an incredibly broken manner, completing the album with the county-style ballad The Ultracheese discarding northern hard motives, bringing soft Orleans tunes.