October 28, 2021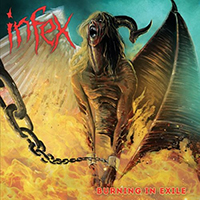 The musical rage is intertwined with the vocal anger, introducing in the instrumental fragments a bright guitar solo, which creates the sound of the leitmotif of the Blood of the Wicked song. The title track of the Infex - Burning in Exile album is made up of a dylogy - first The Burning track chases in a rushing pursuit of unknown goals and exciting adventures. Then the rhythmic march of the outcast, doomed and Exiled speeds up the sound with the introduction of the vocals.
The whirlwind of breathtaking musical drive is complemented by variations in vocal styles and musical tempo, artistically combining in the sound of the Acid Reign song. The Abyss begins with the narrative of a restless old man, then bursts into powerful waves of mid-tempo drive. Wrapping the axis of the main motif with swirling guitar solos the Legions of Hate dark tale then wraps the vocals narration of the storyteller with these dusky guitar passages.
The Torn Apart rushing musical passages come in unstoppable waves, interspersed with brief proclamations of vocal phrases, enchanting the listener with a bright guitar solo of the instrumental part. The fun and excitement of the tavern draws holidaymakers into a collaborative round dance at the Beer Run celebration. The commander's indignant commands begin the album's final composition, named from the 7.62 caliber.